info
Beşiktaş, Barbaros Bulvarı'nın hemen yakınında, ana ulaşım aksları üzerinde, 7 katlı, toplam 1.500m2 kullanım alanlı; ofis, işyeri, okul, klinik başta olmak üzere birçok sektörün kullanımına uygun kiralık bina. Bina genel itibariyle açık plan ofis kullanımına uygun tasarlanmış olup, kullanım amacı doğrultusunda arzu edilen şekilde bölümlere ayrılabilir.
Pandemi sonrasında firmaların yüksek katlı plazalardan uzaklaştığı günümüzde, bağımsız havalandırmalı ve hemen kullanıma hazır olan bina, yapım aşamasında olan Metro hattına 100mt uzaklıktadır ve ayrıca tüm kara ve deniz ulaşım akslarına yürüme mesafesinde, merkezi bir konumdadır.
Bina Özellikleri:
Cam giydirme cephe

Merkezi fan coil ısıtma-sogutma

Jeneratör

Yangın merdiveni

Teknik tesisat kanalı

Su deposu

Yüksek kapasite elektrik kullanım altyapılı

Fiber optik internet

İsteğe bağlı olarak giriş kat 12 araçlık kapalı otoparka çevrilebilir

Deprem dayanıklılık raporu
| | |
| --- | --- |
| property age | 24 |
| habitation | Unoccupied |
| floors | 7 |
| parking space | ✓ |
| elevator | ✓ |
| fire escape | ✓ |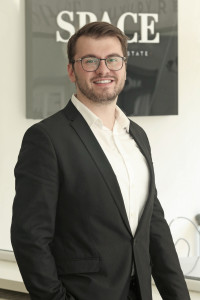 Uğur Durmuş
Uğur Durmuş is the Operations Manager of Space Gayrimenkul. Ugur Durmuş, who graduated from the Department of Electrical and Electronics Engineering, has 2 years of experience in this field. Specializing in Marketing and Communication in his career, Durmuş has knowledge on market research and methods.
Uğur Durmuş
Operations manager