6+2 and above
4
info
As a unique ecological and topographical solution with timeless aesthetics in Cesme Pasalimanı, award-winning VILLA TOPOS, designed by Salon Architects / Alper Derinboğaz, has a fascinating 270º sea view.
The 4-storey real estate, which is one of the two villas on a 1,200 sqm plot, has a 600 sqm indoor area, a 150 sqm roof terrace, 3 floor terraces of 185 sqm's in total, while offering an uninterrupted breathtaking view from all over. The high ceiled villa also stands out with its 140 sqm garden, large infinity pool area, indoor parking area and its 100 m distance to the beach. 
Villa Topos with its futuristic design, characterized by linear lines of exposed concrete  is also ahead of its time in the multiple techniques, used to reach such a level of environment friendlyness
General Features:
600 sqm's gross, 553 sqm's net interior area,

4 floors & a roof terrace, all with scenic views,

6.5 rooms / 2 living rooms / 2.5 kitchens / 3.5 bathrooms layout,

Large viewing terraces on 3 floors, serving also as sun shades,

3,40 m high ceilings,

Passive air conditioning, utilizing nature with diverse techniques,

Hotel-type VRV air conditioning,

Terraced, landscaped garden of 140 sqm's,

11 m infinity pool,

Indoor parking.
Floor Plans:
Garage Level -208 sqm

3 open & 3 indoor parking spaces / hobby-cinema room / maid's room with bathroom / laundry room / engine room, 

Pool Level -110 sqm, Garden area -140 sqm 

living room / open kitchen / 2 bedrooms / bathroom / 11 m infinity pool, deck and shower / shaded garden and 60 sqm terrace, 

Living Room Level - 120 sqm 

living room / open main kitchen / 50 sqm shaded terrace, 

Bedroom Level - 115 sqm 

master bedroom with a glass-paneled bathroom / 2 bedrooms / bathroom / kitchenette and laundry room / 75 sqm terrace, 

Roof Terrace - 150 sqm
Passive / Natural Air Conditioning Feature:
Alper Derinboğaz, the award-winning architect of award-winning Villa Topos, designed this ultramodern, attractive building based on Passive Air Conditioning principles, as the perfect example of eco-friendly aesthetics. By utilizing the soil and natural air currents to expel the excess heat inside the building, he has reduced the need for cooling, achieved minimum emissions and low operating costs. The additional VRV type air conditioning, will be appreciated more and more with the passing years.
Exposed concrete, which gives the building its main characteristic, has taken its place in the building as a heat insulation - natural air conditioner, in addition to its main role as reinforced concrete in the construction. The concrete mass embedded in the ground, which also serves the purpose of minimal intervention to the topography, captures the soil temperature in about eight hours, giving the building enough time to tolerate the temperature changes in the air, balancing the temperature difference between day and night.
The ventilation chimney, which captures the natural wind with its vents on the roof, is a natural air conditioner, designed to circulate fresh air while creating optimum air flow throughout the building and conditioning the building without using energy.
The terraces, which are organized as a continuation of the topography and increase the open spaces overlooking the magnificent view. Coming at right angles, they also contribute to the Passive Air Conditioning by breaking the western sun.
| | |
| --- | --- |
| room / saloon | 6+2 And Above |
| bath room | 4 |
| property age | 1 |
| habitation | Unoccupied |
| view | Nature, Sea |
| floors | 4 |
| at floor | Detached |
| parking space | ✓ |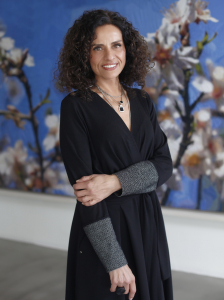 Elif Kolankaya
Elif has been working as a real estate agent at Space Nişantaşı since 2016 in Şişli and Beyoğlu districts, where she is an expert. After earning her bachelor's degree from MSU Architecture Department, she started her career in Vienna and managed her own architectural office for 15 years. Then for 12 years, she focused on culinary arts and held workshops on cooking and pastry. Cooking and real estate are Elif's biggest passions.  
Elif Kolankaya
Real Estate Agent