3+1
3
info
KÖY SİTESİ Köy Sitesi The project planned on an area of ​​467 thousand square meters in Zekeriyaköy was delivered in 2018. Right next to the city, there are 971 residences of various types and sizes with simple and elegant architecture. It is planned to consist of approximately 1,167 homes and ÇarşıKÖY, which offers dining, drinking, entertainment and shopping opportunities in an area of ​​roughly 15,000 square meters, including the stages whose license process, has not yet been completed. In KÖY, a nature-friendly settlement setup and a more sustainable design approach dominate. The project has adopted LEED, the most widely accepted green building certification system worldwide, and has received the LEED NEIGHBORHOOD certificate, breaking new ground in Turkey.
Site Features
Indoor Sports Facility
Tennis Courts
Basketball Courts
Swimming Pools
3.5 Km Walking, Running And Cycling Track
Pet Areas
Kids Clubs
Playgrounds
Electric Charging Station
KÖY; It is in a location where you will feel the simplicity of a village inside, and when you go outside, you can be as close to the city as you wish. KÖY, which is 10 minutes away from Yavuz Sultan Selim Bridge and 25 minutes from the 3rd Airport, is 15 minutes from Maslak, 10 minutes from Hacıosman Metro Station and 10 minutes from Sarıyer İDO. At the end of the Maden-Zekeriyaköy tunnel, which is under construction, it will get much closer to the city. There is a shuttle service from KÖY to Hacıosman every hour.
| | |
| --- | --- |
| room / saloon | 3+1 |
| bath room | 3 |
| property age | 3 |
| habitation | Inhabited By Owner |
| view | Nature, Park, Forest, Garden |
| floors | 4 |
| at floor | Garden Floor |
| parking space | ✓ |
| elevator | ✓ |
| fire escape | ✓ |
| security | ✓ |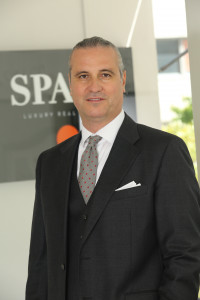 Barış Nasuhoğlu
Barış Nasuhoğlu, a graduate of Istanbul University, Faculty of Economics, Department of Business Administration, started his career at CNBC-e and worked as a senior sales manager in the media sector for 21 years. Barış's researcher and result-oriented character produces solutions to the customers' needs, joined the Space family in 2022.   
Barış Nasuhoğlu
Real Estate Agent