info
Soyak Soho is located on the most central location of Istanbul, Zincirlikuyu.  It is on the intersection point of  all the public transportation systems (except maritime lines, which is also very close) and the main highways of Istanbul. The entrance to E5 and TEM highways are just few minutes away. The metro and metrobus stations are in just few minutes of walking distance.
Through the underground walking tunnel which is right in front of it, residents of Soyak Soho will be able to  reach metro and metrobus stations, one of the fanciest shopping malls of Istanbul and a spectacular performance arts center within 3 minutes.
On the other hand, Soyak Soho is located at the beginning of the main CBD (Central Business District) of Istanbul. Being located right by the metro line that goes towards the CBD, gives Soyak Soho a very competitive edge.
Available office area details:
3 floors - 4.040 sqm

Parking space for 72 cars and 308 sqm storage space

Shell&Core delivery

Seperate entrance, parking lot floors and elevators

1686 sqm garden reserved exclusively for office users
| | |
| --- | --- |
| unit count | 3 Sections |
| property age | 8 |
| habitation | Unoccupied |
| view | City, Garden |
| floors | 7 |
| at floor | Entrance |
| autopark | ✓ 72 |
| elevator | ✓ |
| fire escape | ✓ |
| security | ✓ |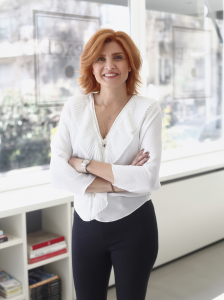 Rengin Erat
Rengin gained a Bachelor's degree in BA from Middle East Technical University. She has extensive experience at managerial levels at several local and international banks and capital market institutions. In 2014, she started working at Space as a real estate agent and provides consultancy services on both commercial and residential real estates. She speaks fluent English and her interests include sports, music, movies and travelling.
Rengin Erat
real estate agent