9 and above
3
info
Historical mansions embroidered delicately in the streets of Istanbul and Razi Trak Mansion, one of the most beautiful living examples of Ottoman architecture...
It defies the years with its fine workmanship and material queality in the architecture and witnessed to an important history from the Ottoman Empire to the Turkish Republic..
Kazim Karabekir Pasha and Cafer Tayyar Pasha one of Mustafa Kemal Ataturk's comrades in arms, famous writers of the period and business people are just some that visited the mansion...
The four story mansion, built at the end of the 19th century, is surrounded by gardens on all its four sides. It has beautiful hand painted wall decorations and 4-5 meter high ceilings reminiscing  the Ottoman palaces.
The magnificent hand paintings on the walls of the mansion, have been meticilously preserved until today and are almost like a museum. Since the mansion was home to the princesses of the Egyptian Dynasty, there are elements of Egyptian culture and Istanbul landscapes in the hand painted decorations. The exterior is covered with wood and there is a majestic entrance. The mansion has a total of 26 sections, consisting of bedrooms, living rooms and dining halls.
Building features:
1294 sqm garden
1143 sqm indoor area
335 sqm floor layout
Suitable for commercial and residential use
24h security and outdoor parking area
Central location
1st degree historical building
| | |
| --- | --- |
| room / saloon | 9 And Above |
| bath room | 3 |
| property age | 105 |
| habitation | Unoccupied |
| view | City, Inward |
| floors | 4 |
| at floor | Detached |
| parking space | ✓ |
| security | ✓ |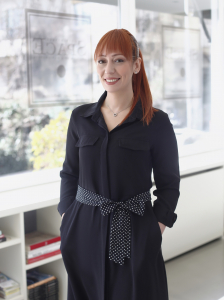 Amber Erdoğan
After 15 years of experience in PR and sales & marketing in construction industry, Amber has been in Space Kandilli for 8 years. Amber, who is an expert on the Anatolian side of the Bosphorus line from Beylerbeyi to Beykoz, graduated from the Department of Eastern Languages and Literatures at Istanbul University. She likes to paint and spend time with her cats in her spare times.
Amber Erdoğan
real estate agent