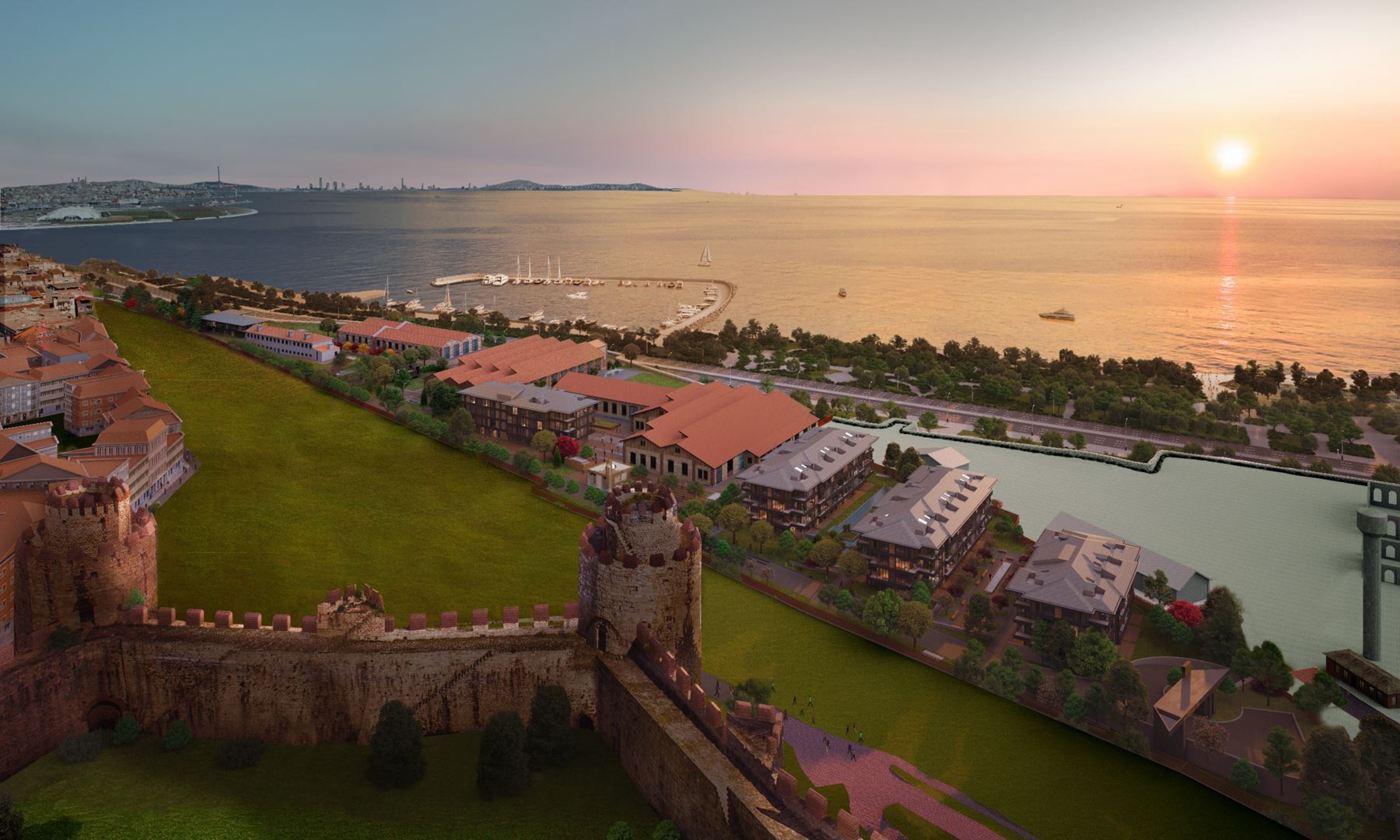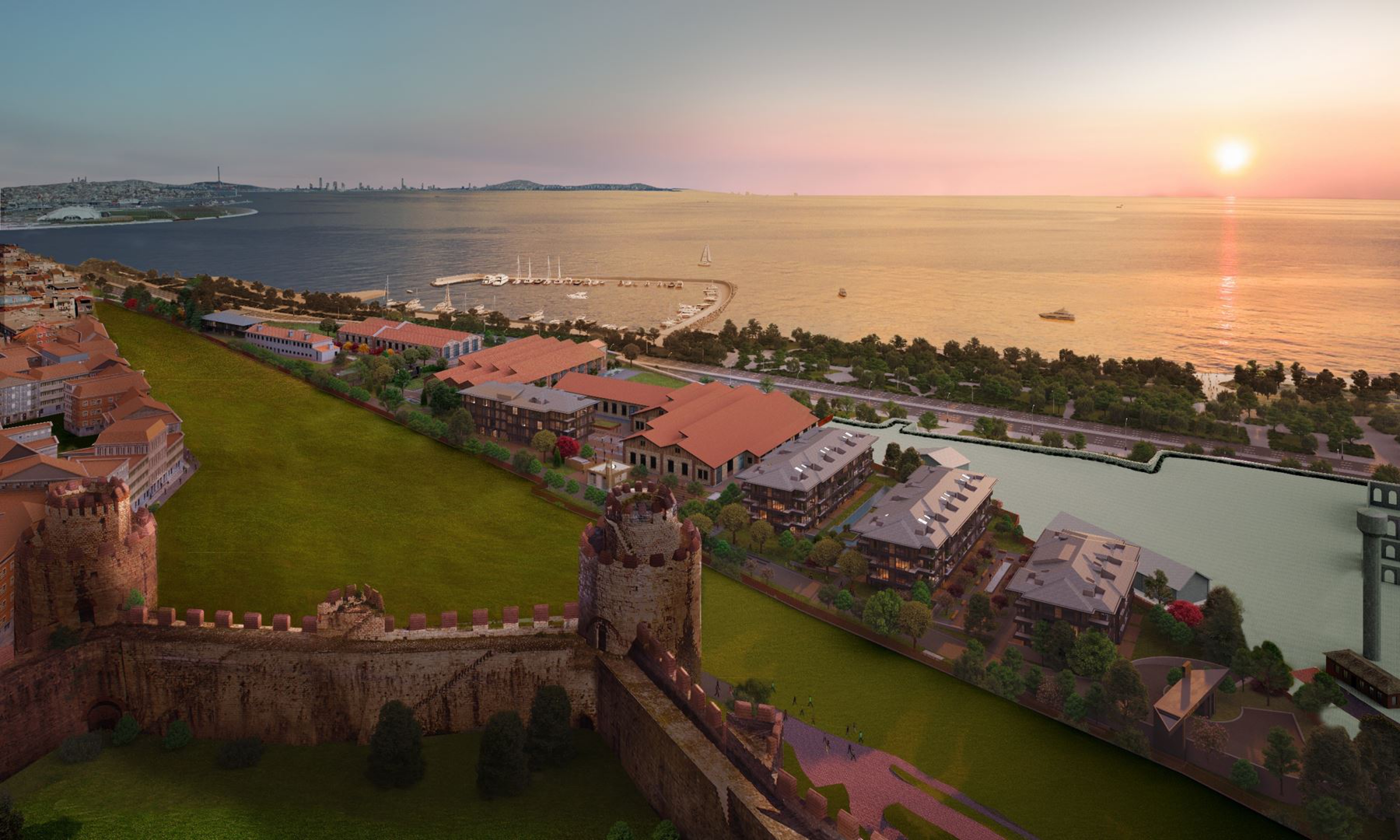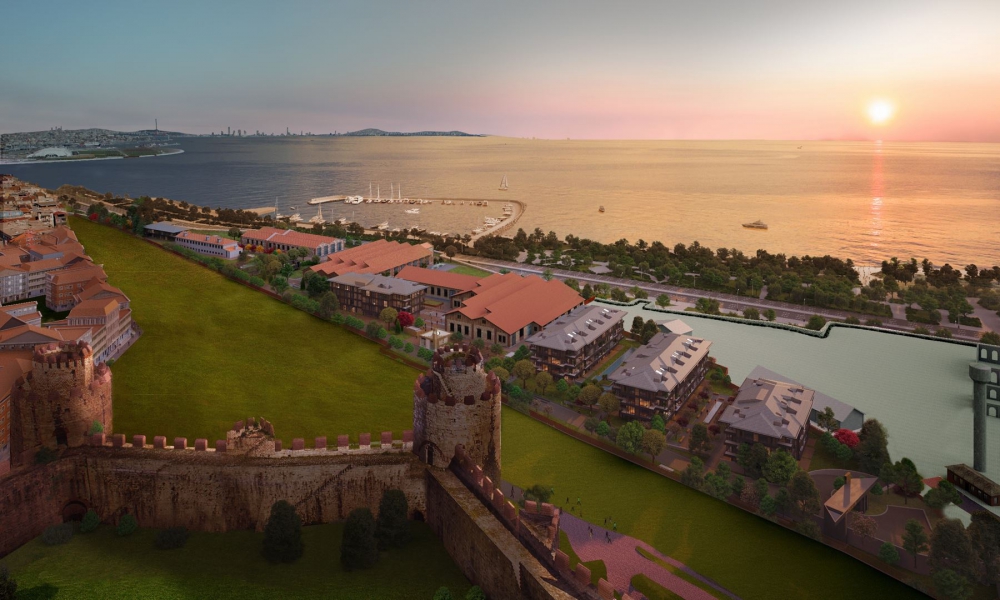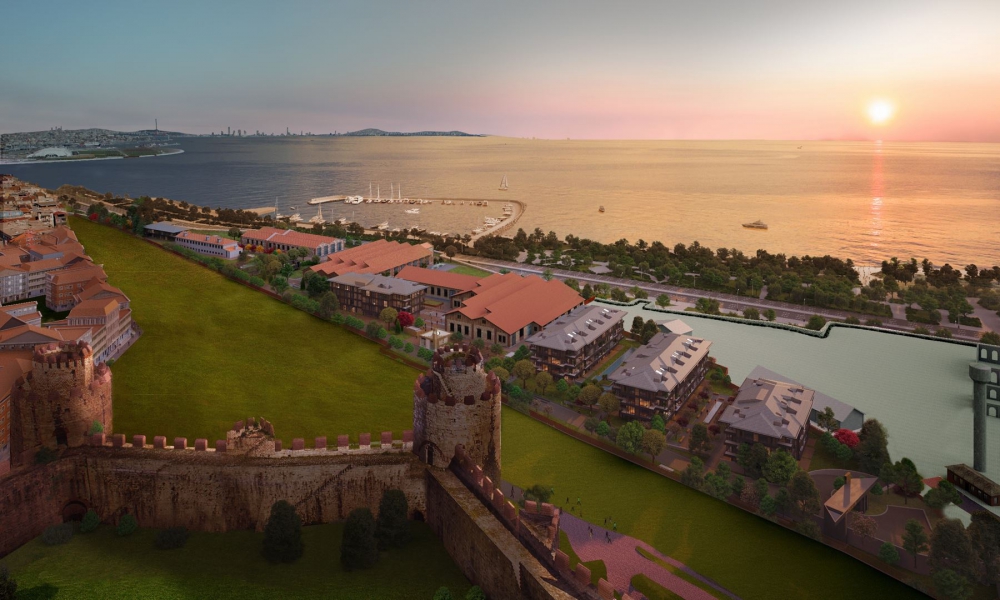 info
The Cer İstanbul project will set a global example in fields such as proper restoration of historical buildings, erecting new structures in the city with a contemporary architectural approach and building with a sustainable design approach and it is designed precisely by taking into account features such as respecting the historical silhouette, relationships with ancient monuments and the spirit of the space.
The new glass facade buildings of Cer İstanbul have a contemporary and low-rise architecture and a building style that does not alter the silhouette; the historical buildings are completely restored and transformed into modern living spaces.
It has a timeless stance amidst history with its natural wood and stone details.
Besides the historical fabric, the beautiful blues and greens of the Marmara region add to the natural richness of the landscape.
Cer İstanbul is located on a total area of 40,000 m2 and a majority of this project, namely 31,000 m2 full of both natural and historical beauty, has been set aside for breathtaking, uniquely designed landscapes.
In every aspect, Cer İstanbul is one of the most unique projects ever launched in Istanbul, one of the most fabulous cities of the world, and it offers global value not just as a living space but also as an investment.
An open-air exhibition of small tools from the historical Yedikule Cer Garages, 2 nostalgic locomotives, 1,450-meter railroad, cranes and various equipment of that era…
Cer İstanbul, planned as a holistic life concept, offers a delicious tasting experience created with refined flavors for the elite guests at the restaurants combining all the colors, energy and joy of the ancient city and provides a life full of all privileges.
Cer Garages, which were once used for maintenance and repair work of the trains, are now revived with a brand new life project; Cer İstanbul, and have become a center of attraction inspired by history with a sense of cultural sensitivity that might be sustained for centuries.
With restored spaces preserving the essence of history, Cer İstanbul combines the spirit of old Istanbul eternalizing very special stories and the modern social life of the present day.
A wide glass facade offers maximum spaciousness and brings sunlight and the historical fabric into the home; Cer İstanbul, which boasts interior designs of world-famous architects, presents a luxurious life with the use of world class, top quality materials and select craftsmanship focusing on every detail.
Cer İstanbul presents a limited number of distinguished life alternatives right at the heart of the Historical Peninsula in apartment blocks with a maximum height of ground floor plus three floors and 1+1 to 4+1 floor plans, and offers a luxurious life and rewarding future so that you can enjoy each and every moment.
The fitness center furnished with state-of-the-art equipment and studio classes formed with the most popular sports trends will help you to start the day with renewed energy.
You may reward yourself by taking a walk or jogging on the 30-kilometer area along the coast road right in front of Cer İstanbul or with a pleasant biking tour, or the relaxing effects of the water at the indoor swimming pool with direct sunlight, traditional Turkish bath, SPA and steam room.
Cer İstanbul is a project that opens to the real Istanbul from the Golden Gate, a legacy of world culture and a symbol of the Historical Peninsula offering an extremely unique life and invaluable investment opportunity with its 558-meter facade overlooking the coast road along Kennedy Avenue and marina connection right in front.
Cer İstanbul is located in a central district with easy access to locations all around Istanbul and it is situated right at the heart of life with an extensive transportation network including alternatives such as sea, land and mass transportation as well as nearby educational institutions, hospitals and shopping malls.
A privileged life right at the heart of real Istanbul that is within walking distance of the enchanting beauty of the Historical Peninsula and located on maritime and land transportation lines.